Beautiful You! VIP Membership
Beauty for Life at Only $149 Per Month
Beautiful You! VIP Membership is South Shore Boston's most comprehensive and affordable aesthetic treatment program for achieving a more youthful, rejuvenated, and toned appearance.
Your Membership Includes:
Customized Treatment Planning with our Aesthetic Experts
One Aesthetic Maintenance Treatment of Your Choice Per Month
Significant Annual Savings on our Most Popular Deluxe Treatments
The Beautiful You! VIP Membership is the best way to identify, achieve and maintain your unique anti-aging and appearance goals.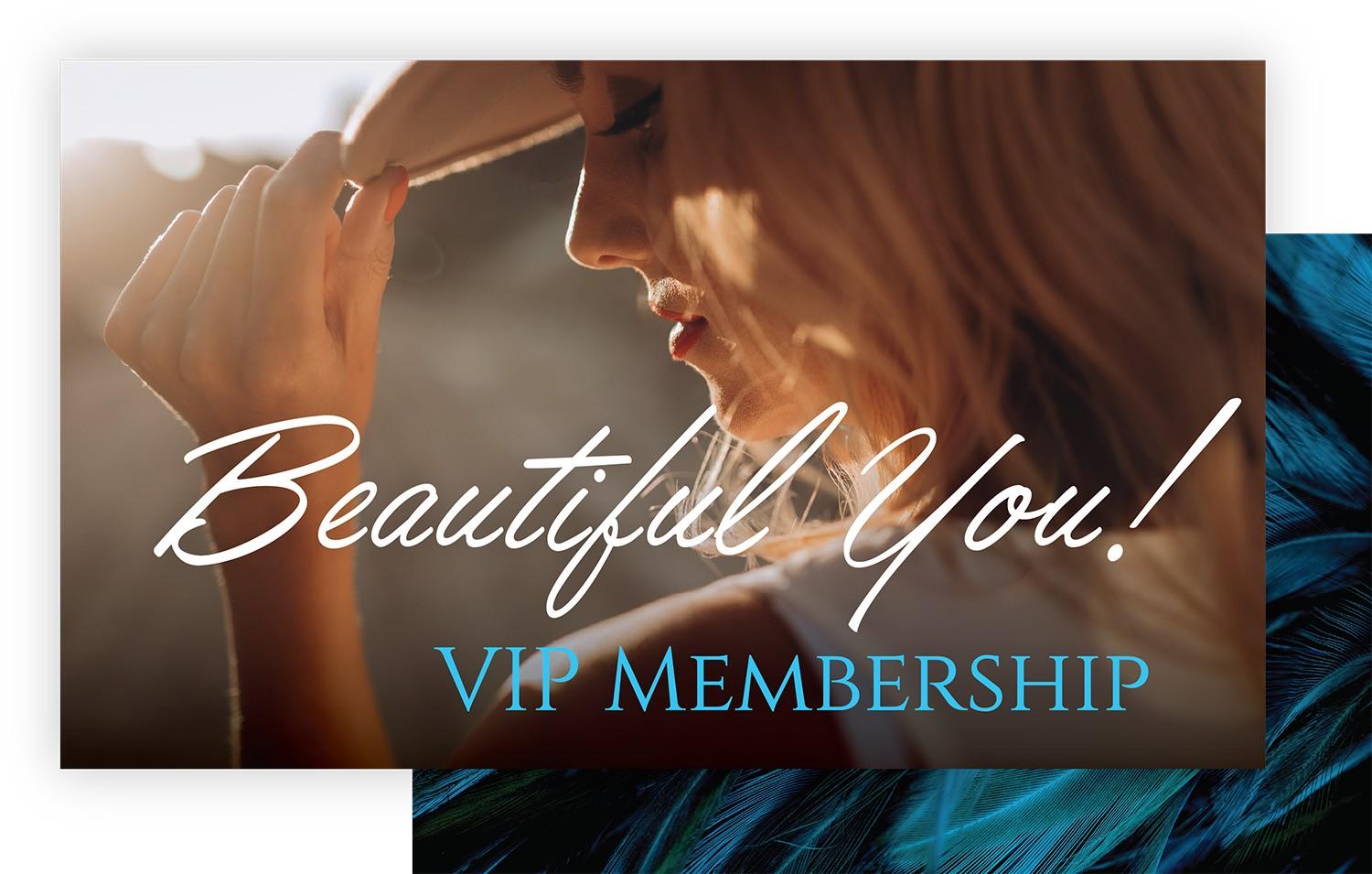 Included Monthly Maintenance Treatments
Schedule One Of The Following Treatments Each Month!
LASER HAIR REMOVAL AREA (A $150+ Value)
Our lasers allow for quick treatment times and minimal discomfort. After a series of treatments, you will have permanent hair reduction. You will begin noticing more hair loss after each visit. Membership allows 1 large area to be treated.
MICRODERMBRASION (A $150 Value)
This non-invasive procedure releases microscopic crystals to remove the outermost layer of dry, dead skin cells and reveal glowing, healthier-looking skin. It also increases the effectiveness of other skincare products.
DIAMONDGLOWTM (A $200 Value)
Experience DiamondGlow, a next-level, noninvasive skin-resurfacing facial that exfoliates, extracts, and infuses Pro-Serum into the skin. This zero-downtime procedure will deliver radiant, rejuvenated, and healthy-looking skin.
CHEMICAL PEELS (A $200+ Value)
Whether you have years of experience or have never had one at all, feel comfortable knowing that a Gentle aesthetician will educate you on the right chemical peel for you. We carry mild, moderate, and strong peels for desired results. We offer SkinCeuticals® and SkinMedica® chemical peel brands.
DERMAPLANE WITH HYDRATING PEEL (A $200+ Value)
A client favorite! An exfoliating blade is used to skim dead skin cells and peach fuzz from the skin, allowing for the hydrating peel to penetrate deep into the skin for bright, radiant results.
BROWN SPOT REMOVAL (A $199+ Value)
The Alexandrite laser is used to treat brown spots and discoloration due to sun damage. Alexandrite laser breaks up the pigmented areas with a targeted light. Over time, the pigmented areas fade away.
VEIN REMOVAL (A $199+ Value)
Using the Nd:Yag laser, light penetrates the skin to reach the superficial blood vessel or spider vein. The heat generated by the Yag laser coagulates the blood inside the spider vein, causing it to collapse and seal. That vein will disappear over the next few weeks, and the body will naturally and safely dispose of the coagulated blood inside.
Members also receive an additional 10% OFF skincare products and benefit from membership pricing on any new or added services.
Deluxe Treatment Savings
Enjoy Year-Long Savings On Our Most Popular Aesthetic Treatments
25% OFF Profound
Our non-surgical Profound treatment reduces facial wrinkles, rejuvenates the skin, and reduces the appearance of cellulite. Profound uses your body's natural healing process to create new elastin, collagen, and hyaluronic acid.
25% OFF Ultherapy
This non-invasive FDA-cleared procedure delivers focused ultrasound energy to stimulate and strengthen collagen. It's great for tightening, smoothing, and lifting the neck, chin, and brow areas.
25% OFF Nordlys
Described as "Scandinavia's best kept aesthetic secret," our versatile Ellipse Nordlys laser offers IPL, Fractional, and Hybrid technology to treat dermatological and aesthetic conditions such as hair removal, leg veins, facial veins, and sun-damaged skin.
25% OFF eMatrix
eMatrix® passes radio-frequency through the top layer of the skin to heat cells below the surface, stimulating collagen production with rapid results. Ideal for acne scars, wrinkles, and uneven texture/tone.
25% OFF Perfect Derma Peel
The Perfect Derma™ Peel's exclusive formulation provides superior results for aging skin, acne, hyperpigmentation, and many common skin concerns. It is also virtually painless and offers an easy, consistent peeling process for all skin types and ethnicities.
Injection Treatment Savings
10% OFF Microneedling with the Rejuvapen NXT®
The Rejuvapen™ Automatic Therapy System utilizes 9 precisely spaced micro needles in a small cartridge to create invisible, micro perforations into the epidermis and the top layer of the dermis. The self-repairing property of the skin is a 100% natural form of skin renewal from the inside out.
10% OFF Platelet Rich Plasma (PRP) Treatments
Using the nutrient-rich plasma from your own blood, this all-natural solution can be applied topically or injected into the skin or scalp to promote skin rejuvenation, collagen remodeling, and new hair growth to thinning hairlines.
10% OFF Kybella®
Kybella Injectable effectively targets submental fat under the chin and jawline to reduce the appearance of excess fat under the chin without surgery.
Botox® at $11/Unit (reg. $14/unit)
Reduce the appearance of fine lines and wrinkles around the eyes, including crow's feet, forehead lines, and the "11's" between the eyes with BOTOX®. Results last between 3-6 months.
$100 OFF each syringe of injectable filler
Smooth fine to deep wrinkles and lines in the mid and lower face; add volume to cheeks with select injectable fillers, including: including our complete Juvéderm® and Restylane® family of fillers.
Additional Member Perks
All members receive a complimentary masque application at the end of their treatments.
Members receive 10% OFF skincare products
Add Dermaplaning on for $50 to any facial that is not already included
Unlimited consultations and skin analyses
Priority scheduling
Membership includes customized treatment planning with our aesthetic experts—so you can identify and attain your unique anti-aging and appearance goals.
With your active lifestyle in mind, maintenance treatments are all low to no downtime and offer the highest patient satisfaction results. And, there is no minimum or maximum limit to the number of deluxe treatments you can schedule.
A Beautiful You! Membership
See How A Beautiful You! Membership Can Help You Achieve Your Personal Aesthetic Goals At A More Affordable Price
*Beautiful You! VIP Membership is non-transferable and non-refundable. Membership terms are annual, with dues paid on a monthly basis. If monthly membership dues fall behind, services will terminate until account is returned to current status. Monthly fees subject to change with 30 days notice and right to cancel membership. May not be combined with other offers or promotions advertised by Gentle Aesthetics MedSpa, unless otherwise specified.