Do you hate those lines and wrinkles that start to show up and settle on your face with age but do not want to lose your facial expressions and have that "frozen" look?
Dysport® was created specifically for people who want to maintain a more natural look while still targeting lines and wrinkles formed by muscular expression movements. Untreated muscles still work normally, so you can continue to express feelings naturally.
It's the lines that disappear, not your expressions, and because Dysport® delivers the natural-looking results people want, 97% of users say they'd do it again. Additionally, Dysport® is approved in 57 countries and has 25 years of clinical experience worldwide.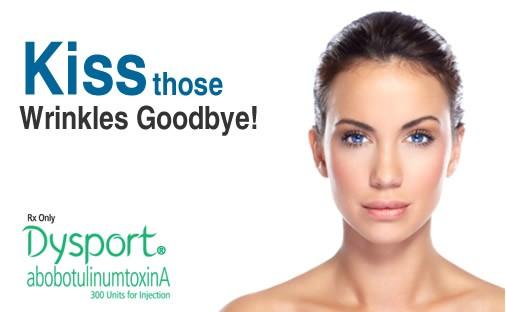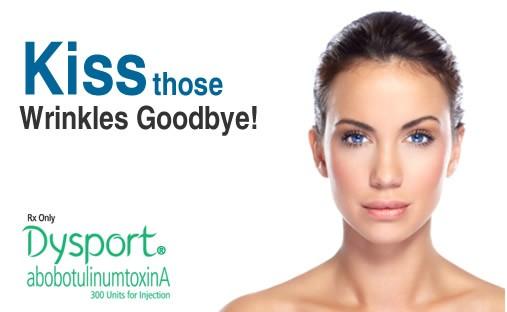 Dysport® is a botulinum-derived product much like Botox. It blocks neuro signals that make facial muscles contract and as a result, many of the expression lines and wrinkles relax and disappear. Dysport injections are very quick and virtually painless and the results last for about 4 months; it is also a faster-acting medication that may start to set in after just 2-3 days after the treatment.
Dysport® Candidates And Treatment Areas
Dysport is designed for men and women who have developed expression lines in the upper area of the face. A detailed consultation is always needed in order to determine best treatment plan for you.
Results may appear in as little as 2-3 days but might take up to 2 week to fully set in. Smoother skin with visibly less wrinkles and lines that can last for up to 4 months or sometimes longer.
Beautiful You! VIP Membership
Beauty for Life at Only $189 Per Month
Beautiful You! VIP Membership is South Shore Boston's most comprehensive and affordable aesthetic treatment program for achieving a more youthful, rejuvenated, and toned appearance.
Your Membership Includes:
Customized Treatment Planning with our Aesthetic Experts
One Aesthetic Maintenance Treatment of Your Choice Per Month
Significant Annual Savings on our Most Popular Deluxe Treatments
The Beautiful You! VIP Membership is the best way to identify, achieve and maintain your unique anti-aging and appearance goals.